Queen of the internet, Chrissy Teigen, is currently gracing the cover of Glamour's April issue.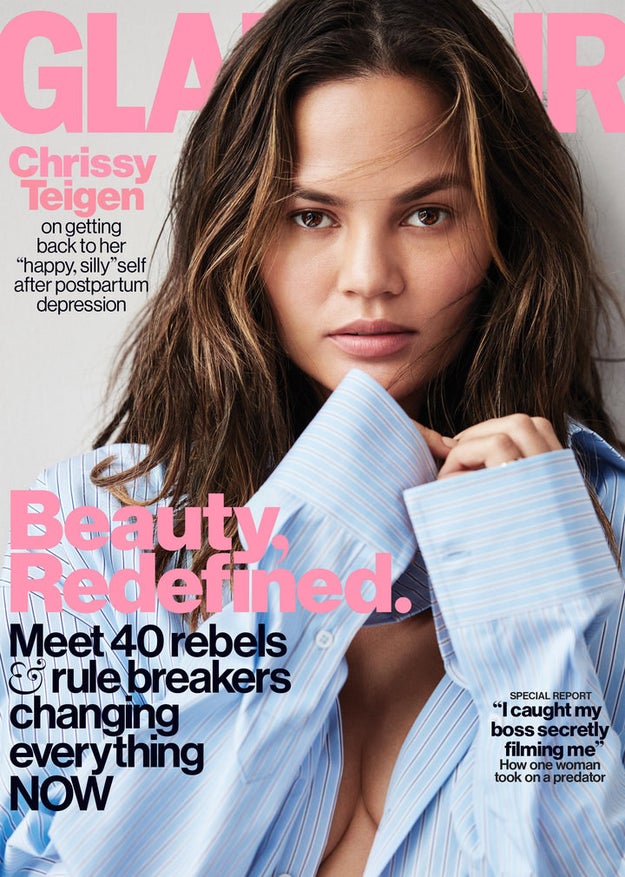 And while sitting down with the magazine for her cover story, she also penned an incredible essay about dealing with postpartum depression.
Chrissy wrote about the struggles she faced after having her daughter Luna:
I had everything I needed to be happy. And yet, for much of the last year, I felt unhappy. What basically everyone around me—but me—knew up until December was this: I have postpartum depression. How can I feel this way when everything is so great? I've had a hard time coming to terms with that, and I hesitated to even talk about this, as everything becomes such a "thing."
And opened up about the moment she realized she had postpartum depression…
Before the holidays I went to my GP for a physical. John sat next to me. I looked at my doctor, and my eyes welled up because I was so tired of being in pain. Of sleeping on the couch. Of waking up throughout the night. Of throwing up. Of taking things out on the wrong people. Of not enjoying life. Of not seeing my friends. Of not having the energy to take my baby for a stroll. My doctor pulled out a book and started listing symptoms. And I was like, "Yep, yep, yep." I got my diagnosis: postpartum depression and anxiety.

I remember being so exhausted but happy to know that we could finally get on the path of getting better. John had that same excitement. I started taking an antidepressant, which helped. And I started sharing the news with friends and family—I felt like everyone deserved an explanation, and I didn't know how else to say it other than the only way I know: just saying it.
…and why she decided it was important to share her experience:
I'm speaking up now because I want people to know it can happen to anybody and I don't want people who have it to feel embarrassed or to feel alone. I also don't want to pretend like I know everything about postpartum depression, because it can be different for everybody. But one thing I do know is that—for me—just merely being open about it helps. This has become my open letter.
And after sharing her open letter, fans thanked her for her honesty.
@chrissyteigen @glamourmag Thank you for being brave and sharing your story ❤ from another mum whose been through the darkness ❤❤ there is hope xx #pndchat

— Rosey (@PNDandMe) March 6, 2017
@chrissyteigen seeing you be open about this is so inspiring and makes me feel less alone and more seen for my depression. thank you ?

— genevieve (@genevieveew) March 6, 2017
@chrissyteigen Thank you for giving PPD a "BFF in my head" face. You are loved for your candidness & this will help many that are suffering

— Stefanie (@Stefanoooch) March 6, 2017
https://twitter.com/anyuser/status/838801696415444992
Once again, giving us all yet another reason to love her.
Read Chrissy's full essay at Glamour.com.
Comments
comments